The Sentence of Atypical Hemolytic Uremic Syndrome

The Empath

Touching, gathering strength

One from the other

We travel through time

One for another

If for a moment we could merge into one

And once again separate

I having taken upon myself all the pain you endure.

The stories below represent the day- to -day lives of families whose children live each day on dialysis, plasma pheresis and the knowledge that the next day might bring another life threatening crisis. The affects of atypical HUS, a genetic flaw that causes blood to clot in the kidneys damaging their ability to filter toxins from the blood, regulate blood pressure and the blood's ability to carry oxygen to the body. The life of the entire family is turned upside down. Atypical HUS can strike anytime – in childhood or adulthood causing increased morbidity and mortality.

Dialysis costs this county $20 B per year; atypical HUS will ultimately condemn one to a life of dialysis considering the rejection rate of a transplant is 50%. Our only hope for a future lies in research, research that will identify better treatments and ultimately the cause and cure for this devastating disease. To do anything less is penny wise and pound foolish.

Despite meeting with doctors at the national Institutes of Health and encouraging them to initiate research in this area, despite having a researcher submit a worthwhile proposal that could be the first step in encouraging research - a registry of atypical HUS and similar diseases in 2002 to date no research has begun.

My Children's Story – Pearl Lewis

Atypical HUS has stricken my family for four generations that we are aware of – my two children, now adults, their natural mother who died 3 weeks post partum and her mother.

In 1966 when N. R. L. was 28, 3 weeks after giving birth to her fourth child, and with an 18 month old, a 4 and 6 year old she died. They said it was schleroderma of the kidney. In November of 1967, at the age of 21, I married their father and became the mother of 5 children under age 7. In a few years there were six children.
All was well until 1988 when my daughter came home from her junior year in college spent in Spain. She appeared to have the flu but on going to the doctor her labs indicated acute hemolysis and renal failure. A biopsy diagnosed atypical HUS and when the slides were compared to those of her mother at NIH, the diagnosis became clear as did her mother's who died in the 1950's of what they had called Bright's disease.
Her older brother sat at her side and prayed that she would get well and even said let it be him. In 2 years it was but he was not as lucky as his sister. After only 6 months on dialysis she regained kidney function, was able to go back to school, graduate, work on Capitol Hill, move to Texas, get her MSW, and marry. Last year she adopted two boys, ages 1 and 2. However, as the years went by her creatinine rose. She has been on EPO and multiple anti-hypertensives for years. Today her creatinine is 6.2; she began peritoneal dialysis August 2003. She is now covered by the state's risk pool. What does life hold for this young, new family? Only time will tell.
Her brother has been on dialysis for 14 years. After a transplant that lasted from 1992-94 that kidney failed, his wife put him in an ambulance and sent him to live with his parents. The divorce followed shortly after. In 1996 another transplant was tried but the disease recurred, he was hospitalized for 6 weeks on a ventilator and almost didn't make it. Dialysis has taken its toll; he underwent a quintuple bypass, had his parathyroid removed and lives with Hepatitis C caused by multiple blood transfusions. He works, bought a house and car. He is, and has been a fighter but the toll on him, his family and the economy has been great. If anything this disease condemns all those it touches to a life of uncertainty, pain and frustration.
Between my two adult children, their medical bills have cost the government in excess of $3M and continues to escalate. What have I done to address the situation? My children are adults, all I can do is try and make sure others have access to care, that research begins to address this dread disease that will continue to cost this nation billions of dollars for treatment for want of lesser amounts dedicated to research. To continue to spend on treatment, treatment that is enormously expensive, treatment that impacts on one's ability to live a normal life, and not address the cause and ultimate cure of this disease is penny wise and pound foolish.
End stage renal disease is the one condition that the federal government has dedicated an entire program to because it is life saving, because the treatment is so expensive costing this country $20 B per year. To allow these children to face a life of dialysis without hope of something better is cruel. A life without hope, a life with only dialysis in its future is not a life anyone would want for ourselves. How can we condemn others to this reality?
Our only hope lies in research, in identifying a treatment that will correct the genetic flaw lying within each cell. There are scientists who understand the mechanism behind the flaw; they only need the necessary funds to underwrite the research that must be done.
Do we spend billions to sustain our children in limbo, in a reality that none of us can call a full, rewarding, normal existence or do we dedicate, as the first step, several hundred thousand dollars in an effort to purchase hope, hope of a life that approaches some semblance of normalcy?
We must take the first step. To do anything less is to continue to do nothing, to continue to support the status quo, to continue to support the misery that is atypical HUS.
Please join us as a partner in hope.
Hunter's Story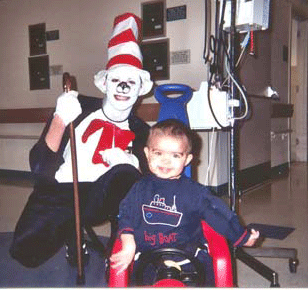 Prior to September 30, 2003 Hunter Burke was a healthy baby boy. We were planning to celebrate his first birthday on November 1, 2003 looking forward to all the wonderful milestones parents envision. As we await his baby brother's arrival this June, Hunter has grown into an adorable, loving little boy with a positive personality and a lot of energy but he still faces an uncertain future.
On the night of Sept. 30th, we took Hunter into the nearby emergency room of Portland's Maine Medical Center two days after his pediatrician thought Hunter had a mild stomach virus. He had vomited again that night, and was lethargic and seemingly weak, but when Hunter looked blankly and unresponsively at us for a brief interval of about 20 minutes, we knew something was terribly wrong. Everyone at the hospital E.R. was wonderful, but they turned us over to the chief of the E.R. the moment Hunter's alarming results returned from a wide array of blood chemistry tests. Hunter's body was destroying his own red blood cells and many of the labs results came back marked critically high or low. Hemolytic uremic syndrome was immediately suspected although Hunter's symptoms did not include bloody diarrhea, something connected with the more benign typical HUS.
Starting with transfers of packed red blood cells, Hunter's pediatric nephrologist did try a transfusion of fresh frozen plasma. Hunter's status only worsened, so a vascular catheter (central line) was surgically implanted 10/13 so that he could receive donor blood plasma components in the plasma exchange called plasmapheresis. During surgery, a kidney biopsy was taken to verify the diagnosis of atypical HUS and to check on damage done in regard to the small and large vessel involvement in the kidneys.
Hunter was hospitalized in the Barbara Bush Children's unit of Portland's Maine Medical Center from Sept. 30th until December 23rd 2003, including two stays in Pediatric ICU where we almost lost him. During one of his two stays in ICU, Hunter was on a ventilator for eight days in a chemically-induced coma, eyes closed but still attempting to fight the morphine and paralytic drugs. Seeing Hunter lying in ICU with his arms and legs strapped-down, his eyes never opening for those 8 days, was a nightmare we will never forget and hope never happens again. On Saturday 11/8 one week after his first birthday, Hunter had a total of 1.3 liters of fluid dialyzed off his tiny body that night and the next morning. We were given a 6 hour window to try to save his life- jeopardizing him by attempting dialysis as Hunter clung to life, but sentencing him to a sure death if we didn't pull the excess fluid from around his heart and lungs, and lower his critically high blood pressures.
At its worst, Hunter's condition caused his blood chemistry levels to show an LDH of 1131, a creatinine level of 3.8, and a BUN of 63 - levels that are now in the more normal range of 283, .4, and 17 respectively. We had plasmapheresis daily for a couple of months, then went to alternating days with hopes of tapering off. A gastric feeding tube was implanted on 12/19 and Hunter currently receives about 60% of his nutrients through his night feeds. Currently he goes back to the hospital for a half-day 2 to 3 times a week for plasmapheresis. We are down to only one blood pressure medication - Enalapril, an ACE inhibitor - and Prevacid to help tolerate the feeds and treatments. We have had a few setbacks recently to include a 5 day stay at the hospital where, triggered by a common rotavirus, Hunter's temperature soared in excess of 104, receiving ice baths to moderate his temperature as we prayed there was no neurological damage.
Having a child with AHUS is like having a sword dangling over his head, never knowing when the sword might fall again to do irreparable damage or even be fatal to your child. A common cold could trigger a life threatening episode of HUS. Regardless of being haunted by the possibility of more HUS attacks we are hopeful that his treatments can be reduced to once a week so Hunter can be more accurately tested for his particular HUS condition. We live on the coast of Maine and there is a phrase by Harriet Beecher Stowe we feel is very appropriate to our circumstances. "Never give up, for that is just the place and time the tide will turn." The tide will turn in Hunter's favor and for all children with AHUS.
We are grateful for the wonderful people at Maine Medical Center who treat Hunter and are so thankful for all the support we've received from neighbors, friends, and family. We appreciate their kindness and prayers for Hunter's health, and hope you personally will consider lending financial support for a cure for AHUS.
Brad, Linda and Hunter Burke
Ryan's Story


Ryan's first episode of Hemolytic Uremic Syndrome (HUS) happened when he was 10 months old. He was diagnosed with the Typical form of HUS caused by E.coli. He did not need any other treatment, other than strict fluid restriction at that time. That hospital stay was a mere 7 days. The nephrologists closely monitored him. At first he was going every couple of months; eventually we were only going twice a year.

On July 5th, 2002, about 2 ½ years after his first episode, our lives changed forever. For the previous week, Ryan had been sick on and off. He had vomited a couple of times, but always acted fine afterward. It had been an extremely hot week, so I thought he was just playing too hard for the weather. On July 5th, Ryan woke up later than normal around . When I changed his diaper I noticed his urine looked a little dark so I called his doctor to have him checked out. We went to the doctor that morning. The doctor had said that everything looked fine; he probably had a touch of the stomach bug, possibly a urinary tract infection. She sent us home with instructions to have a urinalysis and blood test done the following day. When we got home from the doctor's Ryan wanted to take a nap. He had only been up for a couple of hours and was tired again. I decided that I wasn't going to wait for the following day for lab tests. I had seen him act the same way when he was 10 months old and I was not dismissing his illness for something less. We went to the emergency room. I refused an IV, which the doctor wanted immediately thinking he was dehydrated. I had a gut feeling it was his kidneys again and knew that the last thing he needed was fluid. I wanted lab work done before any IV was placed. We waited about 30 minutes for the lab results. Just from looking at the doctor's face I knew my gut feeling was right on target. Ryan's BUN was 125, creatinine was 1.3, his platelet count was 50,000, LD was over 4,000. Ryan had HUS again, but we couldn't understand how because typical HUS doesn't recur.

That's when we were told that Ryan has Atypical HUS. That same day Ryan had a catheter placed for dialysis and plasmapheresis. The protocol for a child was to do dialysis as needed and pheresis every day for a week. That's exactly what was done. He had 5 days of dialysis and 7 days of pheresis. He was in the ICU the entire time. After the first couple of days my husband and I took turns staying over so one of us could be home for our younger daughter. Things started to improve with each day of treatment. We remained in the ICU, even after his numbers began to improve because of his blood pressure. There were times his blood pressure was as high as 180/120. They had to put a naso-gastric tube in for nutrition because he refused any meds by mouth. By July 19th we were moved onto the floor, out of the ICU. His blood pressure was still high, but he was stable. We were discharged on July 26th. Ryan was on about 5 different medications for his blood pressure and vomiting. We were to follow up with the nephrologists twice a week.

Everything was going well. His numbers remained within their limits, blood pressure was stable. His lab work on his visit August 1st looked good. A mere 2 days later it all started again. He began vomiting and acting lethargic again. We went to the emergency room on August 3rd. This time they placed a permanent catheter for pheresis and dialysis. He only needed dialysis for the first few days. He had pheresis everyday over the next several weeks. His blood pressure was very hard to keep stable. He was on so many medications it was hard to keep track of them all. We skipped one day of pheresis after about 3 weeks, so he was now on a 6 times per week pheresis schedule. Again my husband and I took turns staying overnight with him so we had very little time together. We spent 5 weeks in the hospital this time. The first 3 weeks were in the ICU, the following 2 weeks were on the regular floor. I followed his numbers very closely. It seemed like they were stuck and not getting better for the longest time. His blood pressure had been stabilized so we finally convinced the doctor's to discharge Ryan. We went home on September 8th.


We were on a strict outpatient schedule with pheresis 6 times a week. We tried to decrease frequency of treatments a couple of times and his numbers got worse. We tried plasma infusions and his body didn't tolerate that, his blood pressure would go extremely high with that extra fluid. We did have a couple of hospitalizations, just a couple days here or there for increased blood pressure or to try a new medication. Ryan also had a G-tube put in on October 23rd. It wasn't until November that we tried skipping treatments again.


It is now January 2003, six months since the start of all this. We're down to pheresis 4 days a week and hoping to try 3 days a week pretty soon. At one point Ryan was on 14 medications, he is now on 5. Ryan has a record in the pheresis unit at the hospital. To date he has had 127 pheresis treatments. There were times when I thought that things were never going to get better, but I was wrong. The hardest thing a family could ever deal with is when the doctors don't have answers to your questions; you drive yourself crazy with what if's and why's. When I am at the end of my rope, ready to throw in the towel; I take a look at Ryan. He is the one that is actually going through this illness, being hooked up for pheresis for 2 ½ hours 4 days a week. When I need a pick up I just look at his adorable little face and see that he still has a smile. He's laughing, he's playing, and he is showing the world that he is going to beat this thing. It may take his whole lifetime before there's any better treatment or even a cure for this illness, but Ryan is not letting it beat him. He wakes up each day and he may only be 3 ½ years old, but he knows he's sick, he knows he is different from other children. It doesn't stop him. It doesn't slow him down. If this illness hasn't stopped him, I will not let it stop me.


We will beat this.

Nathan's Story


Month 1 -3 - Our son Nathan was a healthy boy up to 11 months old. He developed what appeared to be the flu, but continued to grow worse. We took him in after he was growing more and more lethargic. The HUS diagnosis was made very quickly. He was admitted for 6 weeks. Plasma and transfusions were the primary treatments at this time.


Month 4 - Within a week, Nathan was back in the hospital. This time, he developed kidney problems, along with high blood pressure. Dialysis was needed, along with 4 different high blood pressure medicines. Plasma infusions continued each day.
This continued for another 6 weeks. Nathan was then taken out of the hospital and plasma was continued as on outpatient.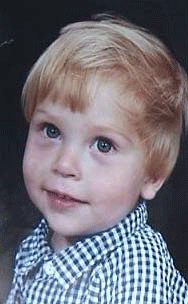 Month 6 -Within 3 weeks, Nathan was taken back to the emergency room... He had developed an infection from his central line, and a high fever developed quickly. Within minutes, his fever was up to 105. Seizures started to follow, and it took two hours to stop the seizures. No kidney problems occurred, but the high blood pressure continued for some time, and a slight paralysis developed, which may or may not be temporary. Plasma is being continued, and it seems to keep the HUS at bay.

Month 7 - Back in the hospital, but using plasma to head off what appeared to be the start of a problem...Successful. No full blown HUS episode. Paralysis has subsided, anti-epilepsy drugs are now being used, along with 4 high blood pressure medicines

Summary of 1st Year - 182 days in the hospital, 70 to 80 of those days were in ICU...very frightening at times
Year 2 -We are now very proactive, and run his blood numbers twice a week. We have been able to prevent life threatening Atypical HUS attacks...while we have been in the hospital a lot, the extreme severity has been avoided...the good news is that we have saved the kidneys...the bad news is that in saving the kidneys, the HUS has a place to clot, and it results in Recurring HUS attacks.
Year 2 Summer - A much better year that year one....only 94 days in the hospital (only?), only 9 days in ICU unit. Average week consists of 3 plasma transfusions a week...when hospitalized, 14 plasma transfusions a week...Still on high doses of high blood pressure meds....about 23 doses of various medicines administered daily

The Carden Family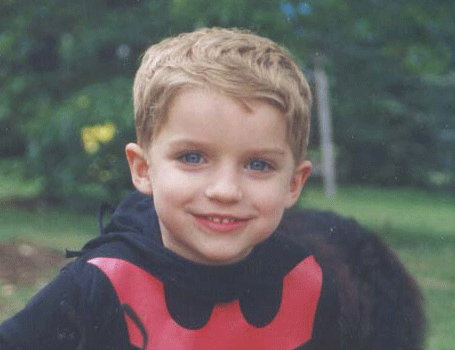 When I met my husband to be, Roger, he informed me that I really shouldn't get serious with him because he had the worst luck in the world. Because I felt I was extremely lucky, I didn't listen, and although I am glad I didn't, I really didn't expect that our life together would progress as it has.
When Roger was 5 years old he came down with a rare illness, hemolytic uremic syndrome. He was hospitalized for five weeks and in recovery for months. His parents made arrangements for his three brothers and sisters to live with relatives while they tended to his recovery. But he survived, and although he had a difficult time catching up in school, his family came back together.
When Roger was 9, flu passed through the household. Roger didn't get better, and was hospitalized again with hemolytic uremic syndrome. Uncertain of Roger's chances to survive a second attack, his father got leave from the Navy to be by his bedside. His mother quit her job and this time neighbors chipped in to take care of his brother's and sisters. This recovery was longer, lasting almost a year. Roger remembers a time of doctor's visits and needles.
At the age of 19 Roger tried to follow in the footsteps of his father and older brother and signed up for the Navy. During the physical the doctor found that his blood pressure was high and there was protein in his urine. His application was rejected; he was hospitalized for tests on his kidneys.
Despite these facts, at the age of 28, I had a hard time believing our life would be anything but normal. Roger appeared to be healthy and I believed that we would be a normal two career couple, and raise a family.
About a year after we married, Roger had flu-like symptoms. We had been very active the previous week; I thought Roger was just over tired. On Sunday morning we went to the emergency room; Roger was admitted. Not understanding the nature of the disease, it took the doctors four days to diagnose hemolytic uremic syndrome. This bout ended with Roger in complete renal failure. He left the hospital after about a month with a graft in his arm to facilitate dialysis. The seemingly healthy man I married had lost 20 pounds during his hospital stay and was no longer able to work.
We worked hard to maintain the strict diet required for dialysis patients, and attempted to get on with our lives. Roger was bitter, constantly fatigued. I lost my job as a property manager. Unable to survive on Roger's disability pay, I quickly got a job as a waitress so that I could be flexible to care of my husband.
Despite our vigilance, Roger did not do well on dialysis, and his health continued to decline. Within months he was placed on the waiting list for a kidney transplant.
On Thanksgiving weekend, the call came. A cadaver kidney became available, and Roger checked into the hospital. The transplant was successful, and Roger checked out of the hospital the week before Christmas wearing gloves and a surgical mask to prevent him from contracting illnesses due to his suppressed immune system. Two days later, he checked back in to be treated for rejection. He finally came home on Christmas day. We were 30 just years old.
The recovery was slow, but steady. Roger went back to school and got a degree in accounting so that he could get a job better suited to his health. He had previously worked in labor intensive positions, but could no longer depend on his strength.
We had our first child 6 years after his transplant, a healthy 10 pound baby boy we named Jack. Twenty months later we had our second child, again a healthy 10 pound baby boy we named Clint. Our family was complete. Roger was employed with the Social Security Administration, I had a good job with a private employer.
Finally, we were as we dreamed, a two career couple raising a family. Our boys were perfect. They were healthy, handsome and smart. Life was finally turning around. Our oldest child took after me in thoughts and actions, and the youngest was the spitting image of Roger, so much so that I asked our pediatrician when we would test kidney function. Hemolytic Uremic Syndrome, I was told, was not hereditary.
But shortly after school started in 2002, Clint came down with a sore throat. He was uncharacteristically lethargic so I took him to his pediatrician. A strep culture was negative and we were sent home with a diagnosis of a virus.
By Sunday of that week, Clint had not improved. He had been throwing up and I was concerned he was becoming dehydrated. I forced him to drink liquids, which he would throw up within minutes. On Sunday night I watched Clint urinate, and the words of Roger's mother echoed in my mind, "Roger's urine was the color of Coca Cola." Clint's urine looked like Coke too. I was terrified.
On Monday morning, we went to the emergency room. After the doctor drew blood, Clint laid very still on the hospital bed. "Mommy, he said- is heaven real?" Of course, I replied. "Am I going there now?" he asked. Please dear God no, I screamed in my head. The doctor diagnosed HUS immediately. Roger joined me in the emergency room and sobbed. He fully understood what the doctor's diagnosis meant. So now we know that HUS is hereditary and that it is recurrent. We are living with two shoes in the air, and if our oldest son also has a tendency, perhaps three shoes in the air getting ready to stamp on our dreams and wishes for the future. I had actually gotten used to worrying about Roger, laying in bed and wondering how long it had been since he peed, taking his blood pressure when he had a headache, letting him sleep in when he seemed overly tired. Now I follow Clint into the bathroom, and watch the color of his stream. This morning before going to work I got Clint out of bed so that I could watch him go to the bathroom, because I had had an uneasy feeling in the middle of the night.
I desperately want to get to the bottom of this disease that now affects 50% of my family. I cling to the idea that Roger has had many healthy years between childhood and our late twenties, and I pray to God with all my heart that Clint is able to grow to be the man God intends him to be. I want to believe that medicine has come a long way since the 1960's when Roger first had his bouts with the disease, and even the 80's when his transplant surgery was done, but I am disturbed to see the treatment is remarkably similar now to when Roger was 5!!! With medical science and technology so advanced that some day we can clone humans, why does the treatment for HUS remain only supportive??
And when I watch Clint wrestle with his older brother, and I want to forget about HUS - I can't because I think of Ryan Still and Nathan Biermann, and all the other kids I've come to know through the Foundation. And then I think of future children, including Jack and Clint's children, and the devastation that this disease wreaks on entire families. The injustice of our having not progressed to the point of actual treatment of the disease cannot continue.
We MUST find a cure for this tragic disease.
Kelli's Story
March 26, 2004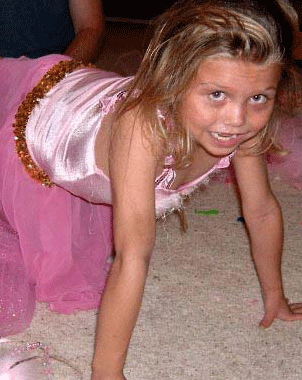 My husband Richard, a pharmacist and I have two beautiful children, Katie, age 2 and Kelli age 5. In July 2002 Kelli was diagnosed with a blood disorder very suddenly one month before her 4th birthday. She seemed to respond very well to IV steroids and within weeks was back running around. She had her 4th birthday party at Chuck-E-Cheese. Not long after the blood disorder (Evans Syndrome - we thought) returned. Despite this Kelli was the flower girl in my brother's wedding on Sept. 23rd, 2002, something she had been dreaming of being for so long. Soon afterward Kelli became very ill. We began to see petichea (red spots on the skin) return, we immediately went to the doctor (who was now seeing her routinely once a week). Her blood counts were plummeting. The Hematologist / Oncologist had only done one chemistry panel and was just doing CBC blood counts. Her blood tests showed BUN and creatinine (indicators of kidney function) to be mildly elevated and the doctor said it was probably do to dehydration. At that time we did not know to question him further until the third occurrence when she did not respond to steroids and immuno-suppressants. She started to blow up, to the point that she could not even open her eyes. We requested another chemistry panel. He put Kelli back on steroids with a two week schedule that would eventually wean her off. When the steroids were decreased Kelli got worse. Her CBC seemed to be going up and down. Finally two weeks later the doctor added imuran. No response, so he increased it. All the while I was complaining of Kelli holding her vulva and crying all day long. We asked the doctor to do another chemistry panel which he did but he said it was to check her liver function due to the medications she had been on. He never gave us the results. I asked him point blank what about her kidneys. He said "oh no, if anything it would be her liver". My husband and another person with the Evan's Internet Group became suspicious of her diagnosis. I asked the doctor if he had run a Combs test, one of the things I was told needed to be done to diagnose Evans, and he said no, I don't need to run a Combs test, this is Evans. On October 9th, 2002 I asked my doctor to please put Kelli in the hospital. He said lets give her a couple of days. I had already scheduled a second opinion for October 10th.

Kelli was blown up like a balloon; the doctor said it was steroids. The strange thing is that when Kelli was able to get up and feel half way decent, her little personality would shine through. She amazed us.

For two weeks Kelli rarely slept due to unbearable pain in her back and vulva. She would crouch over, back up, arms and legs under her, arms extended to her vulva holding herself and crying in pain. Due to this Kelli had been "sleeping" on the couch downstairs. Since I have a hearing problem and am completely deaf to high tones, my husband slept with Kelli; that night at 1:00am my husband woke me saying "come look at Kelli, something is wrong". I ran downstairs in a panic to see Kelli having a major seizure. I tried to wake her up; she was stiff, her arms kept going up and down and she was shaking. My husband called 911 and her doctor. Somehow my sister say's I called her and said come get Katie. Thank God Almighty the EMS workers were able after 3 tries to bring Kelli out of the seizures. To make a long story short we almost lost Kelli and I have to say "God has been good to us". Kelli finally received the "correct diagnosis" atypical HUS. Moral of this story – if you feel that your doctor is not listening immediately get a second opinion.

Kelli spent 23 days in the hospital mostly in PICU. We were devastated; all we could do was pray. Our daughter Katie spent the next 3 and half weeks with my sister. The seasons were changing, it was getting cold and my family brought winter clothes to the hospital. My husband only left the hospital once when the doctors told us we had to leave while they prepared a team of doctor's to help Kelli. They did not tell us then that her life hung in the balance; they probably knew we would not have left. We came back 45 minutes later to find her kidneys had failed. During this period she underwent numerous surgeries to place multiple lines; placed in a morphine induced coma on a ventilator due to congestive heart failure, underwent dialysis 12 hours at time and plasma pheresis every day for about 15 days, had 4 blood and one plantlet transfusion. Her unstable blood pressure scared us to death. She was on every blood pressure medicine to no avail except Minoxidil, finally we insisted on trying it, verses taking her kidneys out, and it worked. Her blood pressure got better however her lab tests indicated that her kidney failure was permanent.

Her sister Katie had her 1st birthday party in Kelli's room on the Bone Marrow Transplant wing in an isolation room. Katie, Mommy and Daddy sang happy birthday to Katie for the first time. It was so sad but also so very happy, I thank God for that day. While Kelli was in the hospital my sister called to tell us Katie was taking her first steps. We finally went home on November 01, 2002.

O

nce home Kelli had to learn to walk all over again. Katie was placed in a home day care setting (from 8-5) so we could tend to Kelli until she became stronger and more stable. She started regaining her strength but had little appetite. In the hospital she was on hemodialysis; a catheter was placed in her belly and we learned to do peritoneal dialysis (PD) at night. Soon after that we were told that Kelli would need a G- tube placed in her stomach for feedings. We fought this but finally realized if Kelli was going to get better we would need to supplement her oral feedings. She also had reflux and needed to have her stomach sewn around her esophagus to stop reflux. Kelli was very upset because she could not swallow anything. She became frightened to eat the little she was still eating. She had 4 surgical implant devices and incisions from various procedures. For days she was unstable, having seizures but kept going, fighting and despite it all smiling. We always felt God's presence. She kept me going. I was a wreck; Kelli just kept saying she was falling asleep. We went to her neurologist and she had an abnormal EEG. She was placed on anti-seizure medication and is doing much better now. She additionally has a sleep disorder due to the abnormal brain activity. It has been a very hard fight. But today I am proud to say Kelli is attending kindergarten and is able to play with her friends.

We sent Kelli's DNA samples to Dr. Diana Karpman in Sweden and found that Kelli has a factor H mutation and asked if she could be part of their research on atypical HUS. Currently due to this mutation Kelli can not receive a transplant (safely). Only by raising funds to support research can those like Kelli hope for a brighter future. Only through research can those with a factor H mutation have a transplant that will last and not be quickly rejected or face transplant surgery without the fear of initiating another atypical HUS episode...

Jo Ann & Richard Lewis 3042 Fall Crest Drive San Antonio, TX 78247 210-403-9987

Anna's Story

Anna's mother is from Russia and has been in the US for 9 years. Besides Anna there are 3 other children, one girl and two boys. These are her mother's words.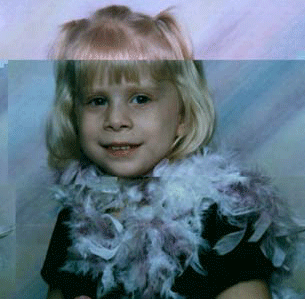 Anna had been very healthy until just before her 4th birthday. She complained of back pain, so we took her to the doctor. He told us she might have bladder infection. Then, 2 day's later they called us and told us there was no bladder infection, perhaps she had cramps. The pain continued and she started getting night-time nose bleeds. Doctors told me, perhaps her nose was dry. She started turning yellow, more nose bleeds, her appetite disappeared and she drank almost nothing. I went away for a weekend and when I returned her skin was really yellow. The doctor insisted I wait until Monday to be seen but I took her to ER, where they thought she has Leukemia. She was transferred OHSU hospital. It took them 2 days to make a diagnosis. They started blood transfusions and put her on BP medication. They tried to get her to drink lots of water. She was hospitalized for 4 weeks, were released on medication for BP and instructed to monitor her BP everyday. We were home for 3 days, returned for a check up, but with a BP of 150/100 she was admitted. They tried to maintain her BP at safe levels and decided to do a kidney biopsy which caused internal bleeding. They give her FFP which succeeded in stopping the bleeding. We stayed there for another 2-3 weeks in order to control her BP. Then 2 days before her 4th birthday, we went home. She was so excited. We have been on BP medication for 6 month. She still gets back pains; as her mother it is really hard to see her go thru this. To hear her plead for relief from pain and know there nothing that can be done, as unbearable.
Hemostasis & Thrombosis Staff Note - Background: I was asked by Dr. Robert Mak of Nephrology to see this patient on 5/14/02 re: her atypical Hemolytic Uremic Syndrome (HUS) for which she was first hospitalized at OHSU from 4/15/02 - 4/27/02. She was subsequently readmitted (5/4/02 - 5/19/02) due to bleeding post outpatient renal biopsy, which was done for persistent proteinuria, and remained admitted due to a positive blood culture (coagulase negative staph from L arm PICC line 5/13) and difficulties controlling her bp. Dr. Greg Thomas of Peds Hematology, who I believe saw her previously and arranged the Factor B and H testing on her (still pending) was away at the time I saw her. I have reviewed her history, including her transfusion history and lab findings in the LCR and in her chart, and have spoken with her mother. I have also examined her blood smear, reviewed her recent renal biopsy with Dr. Don Houghton, and ordered some blood work (notably a crossed immunoelectropheresis for von Willebrand multimers), which was only completed today as the first sample was unsatisfactory and had to be redrawn.
Basically her history is well documented in the LCR. She is almost 4 years old with minimal past medical history until her recent admission to OHSU for treatment of atypical HUS. There is no known family history of any TTP/HUS syndrome. She has an older brother who is almost 6 and a younger brother who is 18 months old--both well, although the older brother is a bit tired, according to the mother. Her mother says she thinks the patient had been unusually tired for about a year before her admission this April, and had also had occasional nosebleeds but was otherwise well.
Assessment/Discussion: Atypical hemolytic uremic syndrome. Of particular concern is the issue of chronicity--both with respect to how long the schistocytic hemolytic process with associated renal damage was going on before it came to medical attention and with respect to whether it is likely to recur. The lack of an acute diarrheal prodrome or of an inciting infectious agent is worrisome in this regard. By history there appears to have been a prodrome of at least 2-3 weeks; the renal biopsy suggests a possible chronicity of weeks to months with evidence of chronic endothelial cell damage. Although she recovered without plasma therapy, I am concerned that she may have a familial form of TTP/HUS overlap syndrome. Certainly her age at presentation, clinical and laboratory findings, failure to find an alternative etiology for her disease, the evidence for a chronic process on her renal biopsy would be consistent with this.
During relapses they are absent and are believed to be the agent agglutinating platelets. Should this patient prove to have this defect it would have both prognostic and therapeutic implications. Prognostic in that the disease would tend to relapse. Therapeutic in that most such cases are plasma responsive, as normal plasma supplies the missing protease.
The Blood Center of SE Wisconsin also does a new assay for the vWF-cleaving protease, and I have requested that they assay Anna's plasma for this as well. Presence of normal levels of protease activity would weigh against a diagnosis of familial TTP/HUS and low or absent levels would support this diagnosis. However, these findings cannot be considered absolute as this assay is technically difficult and appears to be influenced by a number of other disease states, and a number of investigators have recently raised issues about its sensitivity and specificity regarding diagnosis and treatment of TTP/HUS (Kelton JG, Thrombotic thrombocytopenic purpura and hemolytic uremic syndrome: will recent insight into pathogenesis translate into better outcome?, Transfusion 42: 388, April 2002).
I also ordered a Factor V Leiden as there is some recent evidence that this is a genetic risk factor of thrombotic microangiopathy in patients with normal VWF-cleaving protease activity (Raife TJ, Factor V Leiden: a genetic risk factor for thrombotic microangiopathy in patients with normal von Willebrand factor-cleaving protease activity, Blood 99: 437, January 15, 2002).
Good luck to all.
Jonathan's Story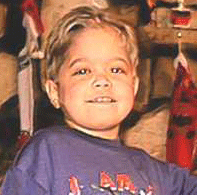 Our son Jonathan was born on September 16, 1992. This was the most wonderful day of our lives. He was a healthy baby, no problems at all, he was beautiful. For the first 8 months of his life, he was your typical baby, ate well, laughed, and as far as we were concerned, he was advanced. There was something very special about our son, and we were soon to find out.

On a Sunday in June, 1993, we took Jonathan to a church carnival. It was a very hot day; Jonathan was a little out of sorts. I thought that maybe it was the heat. He started to get real cranky, that was not like Jonathan. That Monday, I changed Jonathan's diaper, his urine was very dark. I immediately called his pediatrician; he asked me to bring Jonathan in. I also noticed that Jonathan was not eating very well that morning; he acted very tired, almost lethargic. I brought him in to the doctor's office, we were sent to have some labs drawn at the hospital. After the lab draw, we went home; he would call us with the results. We were scared; our beautiful little boy did not act like himself. Then came the phone call that changed our lives forever. His pediatrician told us that Jonathan had kidney failure; he needed to be admitted to Children's Hospital of Orange County. I felt the life being sucked right out of me. We took him immediately to the hospital, where they started IV's, and asked so many questions. They drew more labs, and Jonathan had lost ½ his blood volume. His bun and creatinine, which I later found out were kidney functions, were 110, and 1.7. His LDH was 1600. His platelets were 45,000. We found out late that night that the doctors had diagnosed Jonathan with atypical H.U.S... Jonathan received a blood transfusion and Fresh Frozen Plasma was given to him 2 times a day for a week. I could not believe that this was happening. I would have given anything to take his place, to take his pain away. My sweet baby was holding on to dear life, and I wondered why God had done this.

After 2 weeks in the hospital, Jonathan was sent home with normal BUN, and Creatinine. We would follow up with the nephrologist. We were also told at this time that there was a chance that this could happen again. I tried not to think of this, because I was in complete denial, but in the same breath, I was going to watch my son like a hawk to make sure that this never happened again.

2 months later….it happens again. Another 2 weeks in the hospital, more plasma, more medication for his high blood pressure, and more fear.

2 months later….again. The doctors decided to put in a port a cath because Jonathan's veins collapsed. He was getting plasma every week. This helped, but it did not prevent the relapses. From 1993, when he first was diagnosed, till November 1996, Jonathan had 20 relapses. We thought that was the worst. We found out otherwise.

During all of the bad times, I saw my son change. In 1996, he was a very wise 4 year old, who never complained about the needles, the medications, and the hospital stays. I stayed with him every time he was admitted, and kept telling him that this was happening for a reason. We did not know what that reason was, but everything was going to be ok. I did not want him to feel scared.

In December 1996, everything changed again. By that time, Jonathan was receiving plasma pheresis everyday. A kidney biopsy revealed that he needed hemodialysis 3 times a week. Within one week his blood pressure spiked to 200/138; he had several seizures. He was put into PICU, and stayed there for a month. They decided to start PD. Ed stage renal disease was our reality.

Since December 1996, Jonathan has been on PD, which I do at home. He also has had brushes with death, in 1999, he was in a coma for 5 days, and had to learn to walk and talk again. He also has had 2 surgeries. In April 2001, screws were inserted in his hips because of the renal bone disease. October of 2002 his parathyroid gland had to be removed. Renal osteodystrophy is caused by and imbalance of phosphorus and calcium.

Jonathan has been through so much in his young 10 years, but I had figured out why God sent him to us. He has taught us patience, kindness, and most importantly the true meaning of love. Jonathan lets everyone know that no matter what happens to him and to us that we need to have faith that things can get better. I love my son with every breath I take, and I would not change anything that has happened if it meant that I would never have had the privilege of knowing him and his love.

Brady's Story

In November 2001, our 3-year-old son Brady awoke vomiting and passing maroon colored urine. After a long day in the emergency room he was admitted to the hospital. A series of immediate lab results showed elevated LDH (~15000), a small rise in Creatinine and BUN, and a severe decline in Hemoglobin. Brady weighted 36 pounds at his admission. The diagnosis of Atypical HUS was made and he spent for 5 weeks in the hospital.

Though his LDH level began to drop from the first day, the Creatinine and BUN peaked at 5.6 (normal ~ 0.5) and 128 (normal ~ 15) during the middle of December. It was during this time that Brady began retaining liquids and was placed on Peritoneal Dialysis. He was also given a central line to facilitate Red Blood Cell transfusions, Fresh Frozen Plasma (FFP) infusions and lab work. During his stay he was given three Red Blood Cell transfusions and two infusions of FFP. His kidney's stopped making urine around the 18th of December.

Every day after the 18th, we prayed that Brady's kidneys would begin to produce urine again. After about a week without urine, the renal nurse started to discuss with us the prospects of dialysis at home. And then, on Christmas Eve, as if a gift, Brady's kidneys began making urine. He was subsequently removed from dialysis on December 27 and discharged on New Year's Eve with a normal LDH, a Creatinine level of 1.1 and a BUN of 55.

A follow-up visit four days later showed all normal chemistries: LDH 150, Creatinine level 0.7 and BUN near normal.

A week later Brady awoke with vomiting and nausea. A quick at-home urinalysis revealed extremely elevated blood and protein levels. He was re-admitted that afternoon, 11 January 2002, for a 3-½ week stay.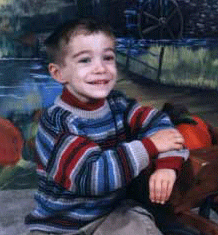 He was placed on dialysis after two days and a regimen of FFP infusions every other day. After a week of dialysis, just prior to his 4th birthday, his peritoneal dialysis catheter ceased to function. He was then placed on a diuretic regimen to compensate for the increase in fluids. He remained on the FFP every other day throughout his stay.

During this stay, Brady never completely stopped making urine, nor did the urine ever turn red. His Creatinine level peaked at 4.3 and his BUN peaked at 89 at the end of January. He was discharged on 5 February with a Creatinine level of 1.7 and a BUN of 52.

This relapse was plagued with blood pressure control problems. He was sent home with 9 medications: 6 hypertensives, 2 diuretics, and calcium carbonate to control his phosphate levels.

From his discharge at the beginning of February to about the third week in February, Brady continued FFP infusion treatments, on an outpatient basis, three times a week. After the third week in February until the end of March, Brady's treatments were reduced to twice a week. He was further reduced to once per week for about 6 weeks. After a renal biopsy performed in mid May showed no signs of HUS, the treatments were discontinued.

It has been approximately one year since his relapse. This last year has, nonetheless, been very trying for both Brady and his family. During this period he underwent two renal biopsies, PD catheter removal, central line removal, mediport placement and removal, two renal ultrasounds, three cardiograms, and a renal angiogram.

By far the largest issue has been his blood pressure. He is currently on 9 hypertensives and diuretics to control an abnormally high pressure brought about by the damage inflicted by the A-HUS. His average pressures, with medication, are on the order of 120's over 80's (his normal pressure should be approximately 90's over 50's). His continuous high BP has concerned his nephrologist to the point that he was considering a nephrectomy in order to save his other organs, specifically his heart. The cardiologist determined that his heart was not currently in any danger of permanent damage. Unfortunately, after multiple renal ultrasounds, a renal angiogram, and a Rennin sampling performed during the angiogram, we are still unable to pinpoint the exact cause of the high pressure. Will it resolve on its own? Only time will tell.

As far as the cost for his illness, our insurance company stated that since his first episode, doctors and hospitals have submitted bills to the tune of about $200,000. This includes about $5000 of out-of-pocket expenses. In addition, we have accumulated out-of-pocket expenses of about $800 on medicine and diet supplements.

Brady is now 5 years old, and for the most part, a happy little boy. And when he's happy, his family is happy. His kidney function is moderate to poor, and Brady understands that he has problems "in his tummy". He is currently 39 pounds, an increase of three pounds over the last 14 months. Though I don't think he understands why, he accepts that he has to get an Epogen (EPO) shot once a week, blood work every other week, blood pressure taken 6 times a day, 23 doses of medication per day, and a monthly visit to the nephrologist. We remain encouraged by his strength and attitude.

About once a week, he looks at me and asks, "When I grow big, I won't need anymore shots or medicine, right Dad?" I simply give him a hug, and say one day, this will all be over. I hope and pray I can keep my word.

Tennesha's Story

Our daughter Tannesha is now 12 years old. By the grace of God she is doing well on dialysis at this time. My husband and I adopted Tannesha at age 5. She was on peritoneal dialysis at the time. We were told her diagnosis was membranoproliferative glomerulonephritis. Her kidneys began to fail at 5 months of age. She began dialysis at age 3. She had peritonitis two times in two years, and was placed on hemo-dialysis.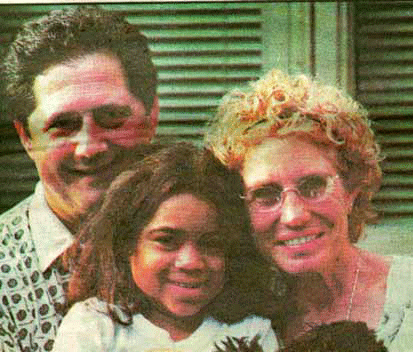 We listed her for a transplant, and I was tested to see if I could donate. I was thrilled to be a match. On January 9th 1996 I donated a kidney to Tannesha with great hopes of a life without being hooked up to a machine. The fifth day post- transplant Tannesha presented with flu like symptoms. Then everything fell apart. Her platelets crashed, blood pressure elevated to dangerous levels, red blood count quickly dropped. I had no idea what was going on. Finally after several tests a diagnosis. HUS, what is that? Tannesha began to lose the kidney I gave her in five days. This had nothing to do with rejection.
Plasma Pheresis, what's that? What planned to be a five day stay in the hospital, with plenty of rest for me, turned into 2 months of confusion, fear, acceptance, and determination? By 1998 Tannesha was in complete renal failure. We had done eight months of plasma pheresis after her transplant with no success. Ohio would not list her again, but the University of Minnesota did. We were told it would be a long wait. Six months later we were called for a kidney, a perfect match. After a 12 hour surgery, Tannesha had a new kidney.
Would the disease come back? Yes it did, two months later; she was so sick .Plasma pheresis again, hooked up to a machine everyday. By July of 2000 Tannesha was back on dialysis. Her prognosis is poor. She is not transplantable because of her atypical HUS returning again. I did not want to here that, nor accept it. Tannesha is 4ft. tall and weighs 50 pounds. She has a leg graft for Hemo dialysis, and a g-tube for nutrition. Her legs hurt most of the time from renal rickets. But guess what!!! God has given her the ability to enjoy life, despite three times a week on a machine. She is taking horse back riding lessons, ballet, and loves to swim. We choose to home school. That works best for us.
I met Tannesha while working in the hospital. I knew she was a gift from God, and that John and I would adopt her. I try to enjoy her everyday, for I do not know what tomorrow will bring. She has a strong faith and is not afraid to die. I pray for research of this disease. It may not affect many children, but to me one is enough.
<![if !supportLineBreakNewLine]>
<![endif]>
The Issue
The issue is not death; death is too final, too spiritual, too grand, the stuff of art and philosophy. There is none of that in atypical hemolytic uremic syndrome. Atypical HUS is the unsung presence, hovering like an uncertain bird of prey. It lies in a deep chasm between remote rims of acute and chronic illness, there is no health.
It involves constant perturbations of sensation. These do not even deserve the word "pain", but are transformed by the imagination of the cerebral cortex into "agony". There are waves of hope and despair with restless fingers searching for remembered aches. There is fatigue, irritability and an endless preoccupation with numbers on lab reports and how one feels. Mainly there is waiting – in doctors' offices, drug stores, pheresis and dialysis centers and for and in hospital beds.
Guilt runs rampant, why did I? Why didn't I? There is an angry grasping in all directions. How in the world can you smile while I'm suffering?
What inadequate intervention does is perpetuate this gruesome reality, this systemic disaster of high risk, ineffective intervention. In this unending process, that most precious commodity is lost, humanity.
Where does hope lie? Hope lies within the hearts and minds of those with the power to commit funds to the search for a better treatment, an intervention that will shed light on the cause of this disease, a disease that condemns these children, these families, to a life of disease and disability. In the end what we – these children, their families and this country- loses is the potential of all that could have been – a life of normalcy, a life blessed with health, a life that contributes to our society, to humanity.